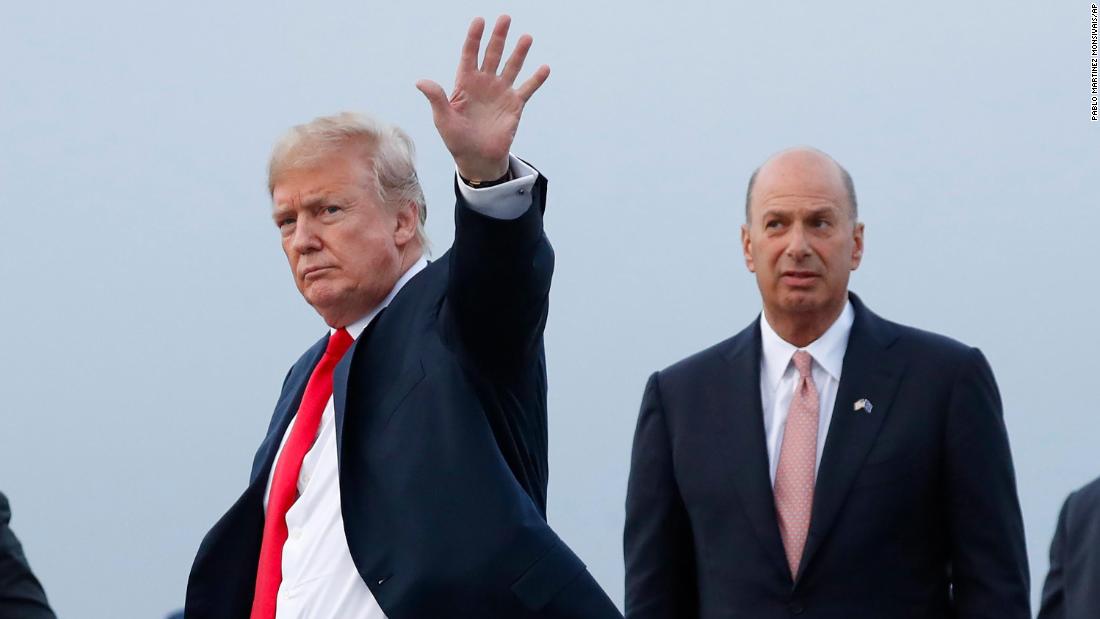 (CNN)With no evidence to back up his charge, President Donald Trump called foreign service officer and Mike Pence aide Jennifer Williams a "Never Trumper" on Sunday, making her the latest public servant to become the object of President Trump's smear campaign.
On Tuesday, Williams is due to testify publicly in the investigation of whether the White House withheld aid to Ukraine to pressure it to help Trump politically. She has
already told
a House committee behind closed doors that she considered the President's request to Ukraine's president for specific investigations "unusual and inappropriate."
As the public impeachment hearings enter their second week, it's clear Trump and his supporters have yet to hear from a witness who does not find the President's actions regarding Ukraine concerning in some way.
Based on their closed-door depositions and expressions of worry, this
next group
of witnesses will likely repeat those concerns publicly.
But this week's witnesses up the ante in the impeachment probe. Former National Security Council (NSC) Senior Director for Europe and Russia Fiona Hill and NSC Director for European Affairs Lt. Col. Alexander Vindman were hand-picked by the President's personnel team to serve in Trump's White House. And US Ambassador to the EU Gordon Sondland is a Trump appointee, who appears to have had a direct line to the President.
These witnesses have already testified privately about conditions placed on a Ukrainian White House visit and the dispensing of US military assistance. And now the President and global audiences will directly hear their concerns —including from Sondland, who Trump allegedly directed to place those conditions.
If these walls could talk
Trump has a tendency to attack every witness whose testimony includes something he doesn't want to hear. Labeling witnesses as "Never Trumpers" and maligning their records of service is par for the course. But Hill and Vindman not only worked for Trump, they were chosen by Trump's team to work for him likely based on qualifications, including their reliability and expertise. That makes their testimony even more compelling.
As a former NSC official, Hill should have had a front row seat to the President's policy deliberations on Ukraine. However, because of the irregular channel that Trump's personal lawyer Rudy Giuliani, former United States Special Representative for Ukraine Negotiations Kurt Volker, Sondland and Secretary of Energy Rick Perry pursued, a lot of work was happening outside of the regular interagency process—something to which she testified in her first deposition. Her successor, Tim Morrison, also
testified
about this irregular channel and said Sondland performed one of Morrison's key responsibilities, prepping the President before his call with Ukrainian President Volodymyr Zelensky.
Hill's private deposition documents the efforts she took to report these concerns and others, including Sondland allegedly conditioning a White House visit on "investigations in the energy sector"—which she
said
was code for investigations into the energy company Hunter Biden served on the board of—during a July 10 meeting with Ukrainian officials (Sondland has
not confirmed
making this statement). Hill and a member of her team, Vindman —
claim
they heard Sondland say that he had an agreement with Acting Chief of Staff Mick Mulvaney on this condition, and Vindman says Sondland explicitly mentioned Joe Biden.
Hill departed in mid-July, but Vindman was on the infamous July 25 call with Zelensky and has been present for what
Sondland described
as the "insidious" continuum of activities Giulliani was pushing this summer. Vindman
testified
that he was present when Sondland linked the release of security assistance to the Ukrainians publicly announcing investigations.
Vindman
, like Chargé d'Affaires
Bill Taylor
, testified that he spent time counseling the Ukrainians not to get involved in the investigations and US domestic politics, and he can speak to the detrimental impact that the President's actions are having on our vital national security interests abroad.
Vindman also has firsthand accounts of what Sondland told the Ukrainians, which could affect what Sondland decides to say when he testifies.
Trump's treasure trove
Sondland is Trump's ideal ambassador—he's obsequious, reportedly
telling
Trump that Zelensky "loves your a**" and appears to have carried out his orders without asking a lot of questions.
In his initial sworn testimony, Sondland said White House staff
never raised misigivings
with him about his statements or behavior—even though witnesses like Hill
said under oath
that she did exactly that, and he only remembered linking security assistance to an "
anti-corruption statement
" after reading Taylor and Morrison's statements.
For those and many other reasons, Sondland doesn't scream credibility.
Moreover, Hill said that he's been a dangerous presence for months based on the counterintelligence risks he presented. Since Hill's closed-door deposition, US Embassy Kiev Political Counselor David Holmes
testified
in his opening statement that Sondland called the President from his cell phone in a restaurant in Ukraine. A US diplomat's phone is a prime target for foreign intelligence services, and Holmes said that the President was talking so loudly Holmes could hear what he was saying, which means others in the restaurant could have too. Sondland hasn't yet commented on this latest revelation.
Secretary of State Mike Pompeo has stuck by Sondland, probably because Pompeo knows Sondland likely still has Trump's support. In fact, Sondland
testified
that Pompeo recently sent him a "congratulatory note" that he was doing great work and encouraged him to "keep banging away." Sondland is, in fact, still carrying out his duties and
meeting with foreign officials
, who may view him as an easy target at this point.
Despite all this, even Sondland
said
he thought an effort to convince the Ukrainians to investigate the Bidens would be "improper." And after Sondland spoke with the President this summer, Holmes
testified
that Sondland told Holmes and others present that the President "did not give a s**t about Ukraine" and only cares about the "big stuff" that benefits the President, like the Biden investigation. That discounts the President and his supporters' claims that his conditioning a White House visit, security assistance and potentially more on these investigations had anything to do with a broader anti-corruption focus.
Ambassadors don't typically have a direct line to the President. Their perspective is instead integrated into broader analysis prepared by the National Security Council so that the President gets the full picture from his experts. But, Morrison
testified
that Sondland said he'd spoken directly to Trump several times—approximately five—from mid-July to mid-September. Ukraine and investigating the Bidens was, according to Holmes, the subject of one of the calls, so Sondland will likely have to answer whether he spoke about the investigations with Trump more times than he's acknowledged to date.
Notably, Sondland was not confirmed by Congress to work on Ukraine and he is not an anti-corruption expert, which throws more cold water on the claim that the President cared about corruption in Ukraine—if that was the case he would have communicated directly with his actual experts, not Sondland.
Trump, Vice President Pence, Ohio Rep.
Jim Jordan
and others who traffic in Trump talking points have gone to great lengths to try to explain why security assistance was frozen—from clumsily trying to say it had to do with establishing faith in Zelensky to claiming it was to get the Europeans to pay more. But, according to the Washington Post, Sondland
reportedly
told Zelensky's aide that security assistance would not come unless Ukraine publicly announced investigations. This was after
Hill
and
Vindman
testified that he had already conditioned a Zelensky White House visit on the investigations back in July, after
coordinating with Mulvaney
. Trump,
Pence
,
Mulvaney
and others who continue to defend the President deny that the President did anything wrong.
Until the House began investigating the President's actions with Ukraine, Sondland had been a gift to Trump, a public face with an impressive title who has been willing to run around and give an imprimatur of officiality to the dangerous game the President and Giuliani have allegedly been playing.
His public testimony may complicate matters for the President, when he is asked to explain what prompted him to condition critical official acts—like security assistance and a White House visit—to Ukrainian leadership. At that point, parroting Trump may no longer be a viable political strategy.
The President's attacks on Jennifer Williams and other witnesses may put them at risk. Former Ambassador Marie Yovanovitch testified that Trump's remarks about her were "
very intimidating
."
Trump's attacks also hurt our national security. When President Trump undercuts and insults US government officials, he signals that they're not empowered to operate on his behalf, sending a message to their foreign counterparts that engaging with them may not be worthwhile.
Original Article : HERE ; The Ultimate Survival Food: The Lost Ways
Top Rated Products
This Is A One Of A Kind Manual Written By A Licensed Car Dealer. It Gives You The Complete Details On Importing And Exporting Cars[...]
This New System Gives You An Edge In Stocks And Options Trading For The Dow, Nasdaq, Sp 500, Etc. Includes Videos With Step By Ste[...]
This New System Gives You An Edge In Stocks And Options Trading For The Dow, Nasdaq, Sp 500, Etc. Includes Videos With Step By Ste[...]
Get the naughty erotic secret about men even the nicest, shyest, most innocent woman can use to get any man you want more turned o[...]
This will help you take financial advantage of these deeds and liens. You will find out whom to contact in each state about auctio[...]
This will help you take financial advantage of these deeds and liens. You will find out whom to contact in each state about auctio[...]